Make your beta readers happy while saving yourself time and stress.
BetaBooks is a new platform for sharing your manuscript and collecting feedback from your beta readers. Your readers will love how easy and professional it feels to read and comment from any device. You'll love how our powerful organization system gives you deeper insight into your book.
If you're an author and you have beta readers, this is the app for you.
Not ready to beta right now? Have a lot of questions?
Book a video demo
and we'll be happy to guide you through everything.
BetaBooks streamlines your Beta Reader workflow.
Share your manuscript without the hassle.
No more converting between formats, or dealing with Bob, whose computer can never open your files. Invite your readers by email, and you're done.
Know exactly where your readers are.
Receive comments and track your readers chapter by chapter and version by version. You'll never wonder who's read what again.
See your feedback like never before.
Filter your comments by reader, chapter, or character. Mark it done when you've made changes. You'll be amazed by what you find.
The result? Betas that are fast and fun for you and your readers.
I'm a full-time author so I don't have time to deal with things like managing dozens of Word documents with my beta readers. BetaBooks simplifies the entire process and saves me an enormous amount of time so I can actually focus on my writing.

— Mike Kraus, author of The Final Dawn series
BetaBooks has made the beta reading process so much easier on me and my readers. Your web app is one of those solutions, like Ulysses, which get me excited: clean, concise, and meant for the user! Thank you for your vision.

— Markus McDowell, author of To and Fro Upon the Earth
Ready to see for yourself?
Book a video demo and we'll walk you through everything and answer your questions.
You won't have to wait long, we respond to most requests within a few hours.
Where'd this thing come from?
We're Andrew and Paul, and here's why we built BetaBooks.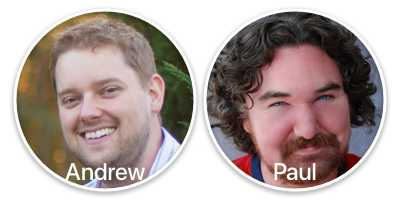 Andrew wrote a novel and started lining up beta readers. He asked Paul to read it and leave a few comments.
"I'll send you an ePub, I think you'll really enjoy it."
While Paul dragged his feet, Andrew's beta proceeded. He gradually got more and more aggravated with its inefficiency. Tracking who was reading, how much they'd read, what version they had, and organizing their feedback was proving to be a real headache.
"There's gotta be a better way, Paul," he said. And, being an engineer, he was thinking about programming it.
Paul smiled, sensing an opportunity to buy himself a little more time.
"I think you're on to something," he said. "In fact, I refuse to beta your book until I can do it on your new web app."
Andrew thought this over, nodding somberly. A week later, Paul was relaxing, looking forward to a work-free weekend, when Andrew's email invitation arrived. The very first version of BetaBooks was online, and Andrew's book was waiting for Paul to read it.
"What did you think?" Andrew asked a few days later.
"The app is pretty good. Authors are going to love this."
"No," said Andrew, "I meant about my book…"
Paul nodded somberly. "Let's focus on the app."
So let's focus on the app!
Get better engagement from your readers.
Authors tell us their readers love BetaBooks because:
The web app is as easy as iBooks or Kindle.
It works well on every device (more than 60% of readers use iPads or other tablets).
It feels more professional than being emailed a document.
The software helps them track their reading and encourages them to finish.
Become an expert in five minutes.
Our walkthrough video takes you from start to finish so you can see how easy this will be.
Take it from these happy authors:
I can't tell you guys how much BetaBooks has slipped into my daily life. I've never felt more "on top of" sorting through all this feedback, able to see the patterns I sensed present in feedback. I think y'all have changed my writing life for good!

JR Creaden
BetaBooks has been splendid so far, I've already gotten way more feedback than I expected and I love how it is all being tracked separately per reader, rather than in one enormous Google Doc or something. Well done!

Bill Powell
The Beta Books review tools are fantastic for managing such a tidal wave of feedback. The ability to quickly categorize feedback as To Do/Consider/Ignore, and the resulting ability to see what was important for any specific chapter, has made the hard slog of editing so much easier.

Carleton Chinner
Are you ready to run a better beta?
BetaBooks is free to use during our early access period. All we ask is for your honest feedback on the app. Yes, it's very meta.
Prefer to get notified when we officially launch? Enter your email address and we'll keep you posted.
Not sure yet? Please get in touch, we'd love to answer your questions.
Thanks for stopping by, we're so glad you found us!
– Andrew & Paul
P.S. (Paul) It's really terrifying to write intro text on a website for authors.
P.P.S (Andrew) Only because you splice your commas. Don't worry, I fixed them.
P.P.P.S. (Paul) Really? There will definitely be typos and gramatical errors on this site, and you know we're going to hear about them.
P.P.P.P.S. (Andrew) No big deal, we'll just write nice apology emails, people will understand.
P.P.P.P.P.S. (Paul) Dude, we'll still have to *write* to *writers*, how are you not getting this?