The world's first reader management software for professional authors.

You love your beta readers, but coordinating them is a lot of work. BetaBooks makes it easy!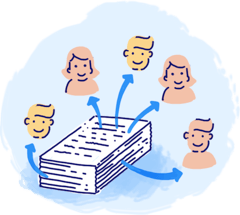 Share your manuscript without the hassle.
No more converting between formats, or dealing with Bob, whose computer can never open your files. Invite your readers by email, and you're done.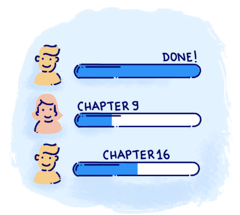 Know exactly where your readers are.
Receive comments and track your readers chapter by chapter and version by version. You'll never wonder who's read what again.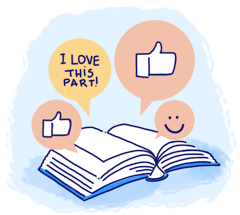 See your feedback like never before.
Filter your comments by reader, chapter, or character. Mark them done when you've made changes. You'll be amazed by what you find.
Delight your readers while saving time and reducing stress.
Not ready to beta right now? Have a lot of questions?
Book a video demo
and we'll be happy to guide you through everything.
This app has revolutionized beta reading for me. I'm spreading the word.

— Jane Steen, author of The House of Closed Doors series
I'm a full-time author so I don't have time to deal with things like managing dozens of Word documents with my beta readers. BetaBooks simplifies the entire process and saves me an enormous amount of time so I can actually focus on my writing.

— Mike Kraus, author of The Final Dawn series
I was able to get feedback from three different people on three different stories last night. I could never have that kind of turnaround with email or even Google Docs. Each reader being able to login and see things queued up for them with exactly what I need done makes it a better flow for them and for me.

— Kelli Fitzpatrick, author of The Sunwalkers.
BetaBooks has made the beta reading process so much easier on me and my readers. Your web app is one of those solutions which get me excited: clean, concise, and meant for the user! Thank you for your vision.

— Markus McDowell, author of To and Fro Upon the Earth
I can't tell you guys how much BetaBooks has slipped into my daily life. I've never felt more "on top of" sorting through all this feedback, able to see the patterns I sensed present in feedback. I think y'all have changed my writing life for good!

— JR Creaden, author of Forward Remorse
BetaBooks has been splendid so far, I've already gotten way more feedback than I expected and I love how it is all being tracked separately per reader, rather than in one enormous Google Doc or something. Well done!

— Bill Powell, author of Your Awesome Memory
The Beta Books review tools are fantastic for managing such a tidal wave of feedback. The ability to quickly categorize feedback as To Do/Consider/Ignore, and the resulting ability to see what was important for any specific chapter, has made the hard slog of editing so much easier.

— Carleton Chinner, author of The Hills of Mare Imbrium
Become an expert in five minutes.
Our walkthrough video takes you from start to finish so you can see how easy this will be.
Are you ready to run a better beta?
Sign up now for an un-timed free trial, no credit card required.
---
Not sure yet? Please get in touch, we'd love to answer your questions.
---
Thanks for stopping by, we're so glad you found us!
– Andrew & Paul
P.S. (Paul) It's really terrifying to write intro text on a website for authors.
P.P.S (Andrew) Only because you splice your commas. Don't worry, I fixed them.
P.P.P.S. (Paul) Really? There will definitely be typos and grammatical errors on this site, and you know we're going to hear about them.
P.P.P.P.S. (Andrew) No big deal, we'll just write nice apology emails, people will understand.
P.P.P.P.P.S. (Paul) Dude, we'll still have to *write* to *writers*, how are you not getting this?